What a month! I feel like I have experienced the full range of emotions in June. I was excited when the jobs report informed us that the US economy had gained 2.5 Million jobs in May while the analysts were expecting additional jobs lost—followed by sadness that we still have 13% of the population underemployed. I was excited to hear that Americans were tired of sitting at home and rushed out to by recreational products, followed by shock when the stocks we watched last month MSFT, WBO, and ThOR gained over 5%, 20%, 20% respectively in less than a month. I was mad while watching the video of George Floyd scream that he could not breathe, followed by hope when the world came together to speak against this injustice in hopes that it will never happen again. In mid-June, I was relieved when we were not hearing about an increase in COVID-19 cases but saddened when the Governor of Texas and Florida were forced to shut back down and learned New York is considering restricting visitors due to the recent surge in COVID-19 cases. June was a month to remember. This month had all of the makings of a blockbuster thriller. Although there is so much to discuss, we are going to stick to what we do best, which is dissect the US economy, which is a roller coaster ride all by itself.
The US continues to transition out of the economic shutdowns mandated by elected officials that put a red-hot market on ice. Many Americans went into the stay-at-home mode. As we slowly emerge from our homes, you will notice that COVID-19 has made things a little different. At first, we will see that everyone has on masks, public places are still at 25% capacity, and there are no large social gatherings. If you have children in school, you are getting emails and phone calls about the rumors of what schools are going to do next year. No one at this point knows what the school format will look like next year, but schools can no longer place 25 kids in a classroom, so change is coming. As of the writing of this article, there are still no vaccines or treatments for COVID-19. Cases of the virus are skyrocketing again, this time across the country, as opposed to a few major cities. Due to this, I continue to have concerns that the financial markets may be subject to additional risk over the next month.
At the same time, I believe that unless some data comes out, that's very frightening, Americans, in general, are done with isolation and strict stay inside the house orders. If they can't go to places to spend money and have some fun, they are going to spend money and bring the party to them. Economic data is increasingly showing this, as well. Sales have continued to boom ever since mid-May, and they are only getting better. Last month, we watched THOR, MSFT, and WBO and MPX, all of which hit it out of the park. At the time of the previous article, the RV industry revenue was up 650% for rentals. At that time, I thought THOR was a good buy around $80. The stock price peaked at $118 in less than 30 days. Plus, the stock price was only $38 on April 2.
All the stocks listed above did well, and it was all because Americans are ready to do something different. But it is just not recreational stocks that are doing well. Sales, in general, are up across the board. The follow-through of industrial production gains and declining business inventories are painting and an even prettier picture of the US stock market. The S&P 500 continues to climb from the March low along with the significant US bond market indexes. All of this combined gives the appearance that we are back on track; however, as mentioned earlier, COVID-19 cases and deaths are again surging. Some states and companies are reclosing stores and suspending operations to ensure this does not get out of hand. Due to this, we must be cautious with looking at the stock market. A few lousy policy decisions can quickly exacerbate something as sensitive as a pandemic. If we are forced back to lockdown again, we have to deal with 20% unemployment all over again. A pause or a drop in the economic recovery cannot be dismissed. Nonetheless, there are still plenty of investments to buy for further growth and income. In this newsletter, we will tell you what we are watching.
Real Estate
I majored in Economics and Finance at the University of Kansas, so I always look at supply and demand curves when I evaluate prices. There are so many ways to review a company, but for me, this is where I always start. With that said, real estate is the one area that jumps out to me. If you look at the graph below you will see that year over year supply is down 20%.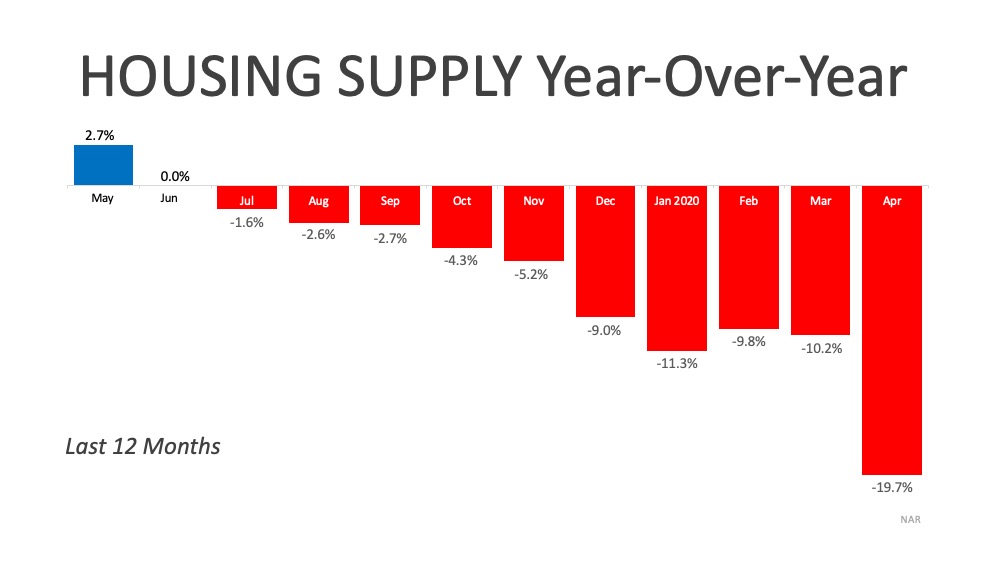 Interest rates are also projected to remain low. Here's a very positive outlook on interest rates going forward, as the projections from the FreddieMac report indicate continued lows into 2021:
"Going forward, we forecast the 30-year fixed-rate mortgage to remain low, falling to a yearly average of 3.4% in 2020 and 3.2% in 2021."
With mortgage rates low, ongoing buyer interest will keep driving the housing market forward. Prices also reached another record low last week, so homebuyers are in what FreddieMac is identifying as the buying mood:
"While the rebound in the economy is uneven, one segment that is exhibiting strength is the housing market. Purchase demand activity is up over twenty percent from a year ago, the highest since January 2009. Mortgage rates have hit another record low due to declining inflationary pressures, putting many homebuyers in the buying mood. However, it will be difficult to sustain the momentum in demand as unsold inventory was at near-record lows coming into the pandemic, and it has only dropped since then."
With Interest rates at an all-time low as the central banking system pumping money into the economy to mitigate the impact of COVID-19, this creates a fantastic opportunity for anyone wanting to sell their homes at this time. When you match low-interest rates in an environment with low inventory, it is an excellent time to sell. If you were planning to sell your house anytime with the next two years, this might be the time. The only challenge I see in the real estate market today is that buyers may get tired of waiting on a house to come on to the market and may put their search on hold. Even saying this, we also know that people are dying to get out of the house, and it's hard not to think of a new home when you have been stuck in your old one for months.
Stocks
Looking at the stock market, it appears that the US economy is back on track. The S&P 500 Index has returned nearly 40% since March 23 on the back of massive Federal Reserve buying of almost everything in the credit markets and parts of the stock market. The Coronavirus Aid, Relief, and Economic Security (CARES) Act via the US Treasury added a shot of enthusiasm to the US economy from an investor perspective. The S&P 500 is positive for the year, proving that a great plan and the confidence to act is an excellent strategy for any time. The US bond market also has been at its best. With the Fed buying just about every sort of financial instrument it can (bonds, loans, credit security, ETC), the overall market as tracked by the Bloomberg Barclays US Aggregate Bond Index has a 4.8% return since March 23. This return is impressive, considering it occurred all within three months during a record high unemployment period.
The Fed has played a vital role in the US economy and markets, but the economy has been doing its part to bring investors and traders back into the markets. The best thing the economy has done to bring investors back to the market was to create jobs. In May, the US economy gained 2.5 Million jobs, which was much better than the expected continued job loss predicted by the analysis. The most recent report shows that this still means unemployment is at 13%. While this number is still high, it has been brought down enough to cause many investors to take a sigh of relief and get back to evaluating the market.
Consumer spending is the core of the US economy and the prime driver for business revenues. It's what sets up the US stock market. US retail sales slid in February and March and fell off a cliff in April. Then, it increased by 18% in May. May saw buying across all sorts of goods, including clothing and other discretionary goods. The increase in discretionary income shows consumer demand for a broad spectrum of products looks like it's here to stay. Although 15% of the population is still underemployed, most US workers were able to keep their jobs, and wages continue to rise. As wages continue to increase, this means spending will increase. Also, savings have been soaring in the US. The average US personal savings rate as a percentage of disposable income has gone from the multi-year average of 7.8% to 33%.
The increase in savings rate is another thing this month that has blown me away. For the last 15 years, I have heard the statistic that roughly 78% of Americans live paycheck to paycheck. I have often wondered who these people were. Over the years, I have concluded that if a major catastrophe happened, most Americans would not be able to maintain their lifestyle. Then come COVID-19 and the 3 -month pause in the US economy. Knowing that most Americans lived paycheck to paycheck, I expected savings to be nonexistent when unemployment soared to over 21 million people, and sales plummeted. But, during this time, Americans' savings increased to almost five times what it was before the pandemic. The increase in savings can be seen in the savings built up in bank balances, which now represents a massive amount of discretionary spending power. After 15 years of concern that average Americans were living on the edge, I am now wondering if average Americans are just fine financially; however, it appears most of us have an addiction to spending every dime they have. Rappers Fat Joe and Lil Wayne might have coined the phrase "make it rain," but it seems like, from a broader perspective, the American people have been "making it rain" for a long time.
The ability to spend is even more good news for the US economy because if this is true, all the money Americans were forced to save over the last few months is burning a hole in their pockets and cannot wait to support the US economy. Last week, I heard a store in MN that sold more $3,000+ trampolines during the previous 60 days than they sold over the last five years. There is more promise of consumer participation backed up by improving job market conditions and wages. The Bloomberg Consumer Comfort Index is not just about how households are feeling now but also how they view their prospects and those of the overall US economy. The Consumer Comfort Index is an especially crucial forward-looking index. The Comfort Index plunged from all-time highs to a low of 35, in May, but we are already seeing a slight recovery,
Summary
In summary, my view of the US market is that the real estate market is strong, the US economy is adding jobs, the administration and Federal Reserve bank had a great plan to support the economy in our time of need. When you add this to the idea that Americans love to spend money, most signs point to the notion that the American economy is back on track.
The information contained and the opinions expressed in this article are not intended to be construed as investment advice. JaScott does not guarantee or warrant the accuracy or completeness of the information or opinions contained herein. Nothing herein should be construed as investment advice. You should always conduct your research and due diligence and obtain professional advice before making any investment decision.